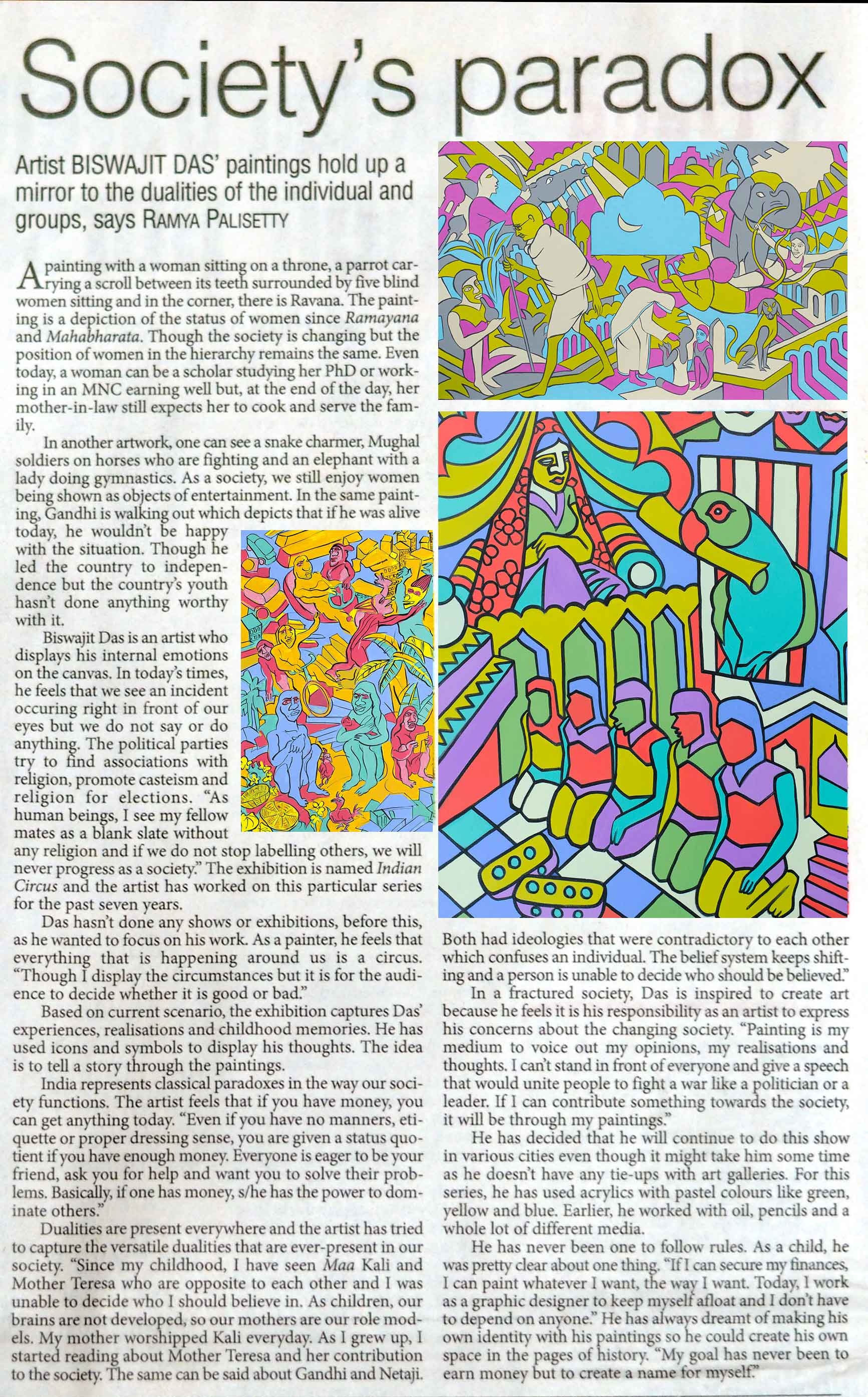 Society's paradox
The Pioneer | By Ramya Palisetty | 23rd April 2018
Artist Biswajit Das' paintings hold up a mirror to the dualities of the individual and groups, says Ramya Palisetty
A painting with a woman sitting on a throne, a parrot carrying a scroll between its teeth surrounded by five blind women sitting and in the corner, there is Ravana. The painting is a depiction of the status of women since Ramayana and Mahabharata. Though the society is changing but the position of women in the hierarchy remains the same. Even today, a woman can be a scholar studying her PhD or working in an MNC earning well but, at the end of the day, her mother-in-law still expects her to cook and serve the family
In another artwork, one can see a snake charmer, Mughal soldiers on horses who are fighting and an elephant with a lady doing gymnastics. As a society, we still enjoy women being shown as objects of entertainment. In the same painting, Gandhi is walking out which depicts that if he was alive today, he wouldn't be happy with the situation. Though he led the country to independence but the country's youth hasn't done anything worthy with it.
Biswajit Das is an artist who displays his internal emotions on the canvas. In today's times, he feels that we see an incident occuring right in front of our eyes but we do not say or do anything. The political parties try to find associations with religion, promote casteism and religion for elections. "As human beings, I see my fellow mates as a blank slate without any religion and if we do not stop labelling others, we will never progress as a society." The exhibition is named Indian Circus and the artist has worked on this particular series for the past seven years.
Das hasn't done any shows or exhibitions, before this, as he wanted to focus on his work. As a painter, he feels that everything that is happening around us is a circus. "Though I display the circumstances but it is for the audience to decide whether it is good or bad."
Based on current scenario, the exhibition captures Das' experiences, realisations and childhood memories. He has used icons and symbols to display his thoughts. The idea is to tell a story through the paintings.
India represents classical paradoxes in the way our society functions. The artist feels that if you have money, you can get anything today. "Even if you have no manners, etiquette or proper dressing sense, you are given a status quotient if you have enough money. Everyone is eager to be your friend, ask you for help and want you to solve their problems. Basically, if one has money, s/he has the power to dominate others."
Dualities are present everywhere and the artist has tried to capture the versatile dualities that are ever-present in our society. "Since my childhood, I have seen Maa Kali and Mother Teresa who are opposite to each other and I was unable to decide who I should believe in. As children, our brains are not developed, so our mothers are our role models. My mother worshipped Kali everyday. As I grew up, I started reading about Mother Teresa and her contribution to the society. The same can be said about Gandhi and Netaji. Both had ideologies that were contradictory to each other which confuses an individual. The belief system keeps shifting and a person is unable to decide who should be believed."
In a fractured society, Das is inspired to create art because he feels it is his responsibility as an artist to express his concerns about the changing society. "Painting is my medium to voice out my opinions, my realisations and thoughts. I can't stand in front of everyone and give a speech that would unite people to fight a war like a politician or a leader. If I can contribute something towards the society, it will be through my paintings."
He has decided that he will continue to do this show in various cities even though it might take him some time as he doesn't have any tie-ups with art galleries. For this series, he has used acrylics with pastel colours like green, yellow and blue. Earlier, he worked with oil, pencils and a whole lot of different media.
He has never been one to follow rules. As a child, he was pretty clear about one thing. "If I can secure my finances, I can paint whatever I want, the way I want. Today, I work as a graphic designer to keep myself afloat and I don't have to depend on anyone." He has always dreamt of making his own identity with his paintings so he could create his own space in the pages of history. "My goal has never been to earn money but to create a name for myself."